Helsinki Guggenheim competition: The ones that got away
December 5 2014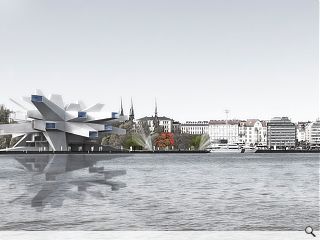 Helsinki's Guggenheim competition, one of the highest profile architectural contests in recent years, made headlines after drawing 1,715 anonymous entries – an unprecedentedly crowded field that left most unable to cross the Finnish line.
With six finalists now shortlisted for the museum of art and design some of the hundreds who didn't make the final cut have lifted the lid on their own solutions for the waterfront site
Amongst those left disappointed were Stallan-Brand Architects whose multi-pronged 'sea urchin' drew inspiration from organic forms to wow visitors,
writing in their design statement
: "The building looks like a giant sea urchin, a pinecone, a snowflake, an explosion, or the kraken from the depths. The buildings spikes and skew spires animate the Helsinki skyline, yet the architecture integrates with the landscape against park Tähtitornin vuori.
"Our proposal playfully oscillates between the sea, land and the city, leaving visitors and viewers with questions."
Another overlooked practice, Smith Scott Mullan Associates, came forward with their own take on the prized commission by drawing on cultural references such as Upenskin Cathedral and shipping.
Alistair Scott commented: "Our building has been sliced and divided creating a diagonal glazed slash through the building which connects a view from Tahititornin Vuori Park to the Cathedral. The northern half of the building steps back from the water and with a tiered public landscaped garden, provides an enclosed living room for the city in the winter while the southern half opens up to the park."
Sadly neither scheme is to be leaving the field clear for AGPS Architecture, Asif Khan,Fake Industries Architectural Agonism, Haas Cook Zemmrich STUDIO2050, Moreau Kusunoki Architect and SMAR Architecture Studio to duke it out for the honours.
Back to December 2014