Linlithgow Leisure Centre extension approved
December 2 2014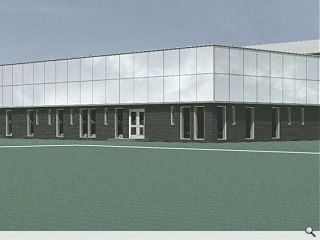 A bid to extend Linlithgow's Xcite Leisure Centre has been approved by West Lothian Council, clearing the way for work to begin on a 500sq/m gym and 200sq/m multi-purpose studio space early in 2015.
Designed by CRGP as a 'light touch' bolt on to the existing facility the work will provide additional floor space as well as enhanced facilities for users.
The linear double height block will be accessible from the existing main entrance and clad in semi-translucent polycarbonate panels, permitting diffuse natural light to the interior during the day and transforming into a 'glowing box' by night.
In their design statement CRGP noted: "It is important that whilst this extension is designed to function as part of the overall centre, aesthetically it can stand visually as a new and exciting development. This will also assist in encouraging new clientele to the facility and thereby increasing the overall revenue for West Lothian Leisure."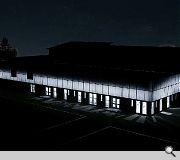 The extension will take on the appearance of an illuminated crown by night
Back to December 2014