Stirling breaks ground on major town centre expansion
November 28 2014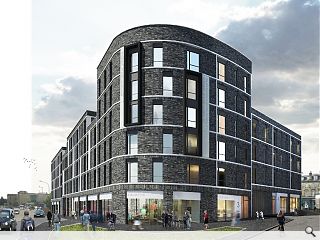 CCG have broken ground on a development of 53 new homes for affordable let on Goosecroft Road, Stirling, designed by Michael Laird Architects to help reconnect the town centre with its railway station.
Delivered on behalf of Stirling Council and Stirling Development Agency the £8m scheme will offer a range of one and two bedroom flats together with three ground floor commercial units.
Outlining their design Michael Laird said: "Goosecroft Road is really a recent addition, conceived as part of the retail expansion culminating in the Thistle Marches, to provide much needed traffic relief to the congested city centre. Due to the site's orientation towards Murray Place and the hinter land behind, Goosecroft Road has never benefitted from a proper street frontage or urban presence to complete the whole Murray Place/ Station Road/Seaforth Place/ Goosecroft Road urban block
"A contemporary building is envisaged with a materiality of robust and durable materials befitting its location. The design will be articulated to reflect the nature of the use and take advantage of the prominent setting looking towards the Wallace Monument."
Work is scheduled for completion in November 2015 and will serve as a 'catalyst' for an extension of the town centre further along Goosecroft Road, completing the urban block through to the Station Road elevation.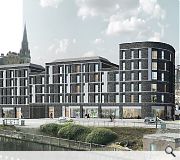 Finished in black textured brick with concrete detailing the completed build will be inscribed with famous historic quotations describing the county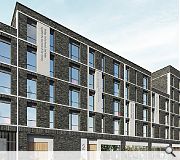 Stirling Station currently lies severed behind a busy dual carriageway and shopping mall
Back to November 2014