Laurieston phase two goes in for planning
November 28 2014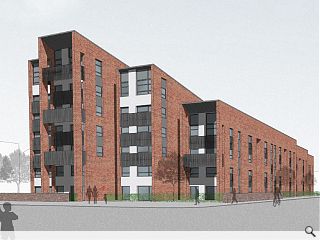 Page\Park architects have
submitted plans for a second phase
of a New Gorbals Housing Association led regeneration of Laurieston, following
completion of the award winning first phase
.
This will see 55 new homes built on the corner of Eglinton Street and Cumberland Street as a continuation of properties delivered thus far, employing a simple brick finish and reinstating the street line.
Standing in a gap site once occupied by Gorbals Parish Church the scheme rises to meet the street corner with seven storeys, before stepping back to acknowledge the tree line of Eglinton Street.
Some three and four bedroom maisonettes will be included in the housing mix, arranged around a central courtyard.
A separate application has been lodged to demolish the last of four 24-storey tower blocks at Norfolk Court to make way for further development.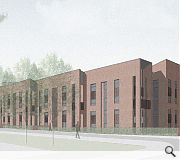 laurieston has been identified as one of Glasgow's eight Transformational Regeneration Areas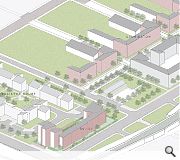 The block slots into a wider master plan
Back to November 2014