Art School blaze traced to basement degree project
November 27 2014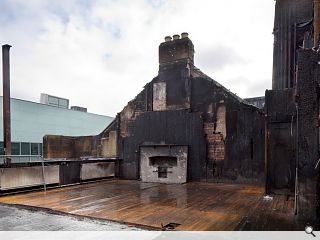 A student's degree project has been identified as the source of a devastating fire which swept through the Glasgow School of Art after forensic investigators painstakingly combed debris for evidence.
The Scottish Fire & Rescue Service report singled out an installation of foam panels affixed to the walls of a basement studio, which they believe caught light when propellant contained within a can of expanding foam was sucked into a neighbouring projector and ignited.
Commenting on the findings GSA director professor Tom Inns said: "The fire was an accident and, like any accident, it's caused by many different factors coming together and conspiring against us on the day. There are a huge number of lessons that can be learned and we've been working very hard over the last six months on our health and safety procedures, training and so on. We've been doing many different things over the summer to learn from the experience."
Fourteen expressions of interest have been received in a
competition to rebuild the Mac
, which has now been made wind and watertight, they will be whittled down to six ahead of the Christmas break.
The GSA has also commissioned an external review of its management of the incident.
Photography by McAteer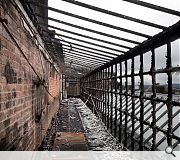 Charred remains of the rooftop 'hen run'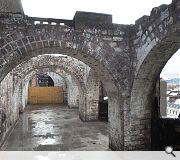 The fire-damaged loggia highlights the extent of restoration needed
Back to November 2014