Loader Creative Design enter residential market with Strathaven farm steading
November 10 2014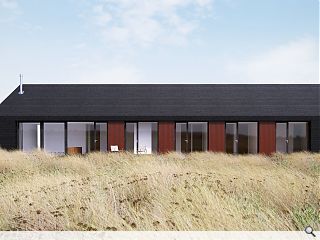 Loader Creative Design, founded by former Elder & Cannon architect Matt Loader, has submitted plans for a family home at Sidehead Farm, near Strathaven, South Lanarkshire – the practice's first stand-alone house.
Situated on green belt land the property is designed to reflect the local development pattern of clusters of 1.5 storey buildings and is clad in stained black timber horizontal rainscreen cladding with matching decking and an adjoining garage, built to mimic the house to which it connects via a glazed link.
The three bedroom property centres on an open plan kitchen and breakfast bar, opening onto a living room with its own wood burning stove and oriented to the south to benefit from wider views.
In their design statement LCD said: "The design of the new house takes its scale and form from the original steading - that of a slender rectilinear plan form with the plan only a single room in width (plus access corridor).
"In terms of materials it is desired that the house contrasts with the existing white harled cottage, so that while it has a similar form, it marks its place in time. The proposed blackened timber therefore reflects this contrast, forming a uniform cladding material. The recesses to entrance and to wood store are proposed in western red cedar cladding, however, and the dead panels to the eastern elevation will be formed in 'rust' coloured PPC aluminium cladding, referencing the existing red barn on site.
"In summary, this is a house which is confident of its place and time. It seeks to be sensitive in both scale and siting in making a 'place' however it is formed in crisp contemporary materials. This duality of approach results in a building which echoes the agricultural location, while forming a building with low carbon footprint through the use of super-insulation and best use of passive solar gain."
Images produced by Ed Wright Visuals
A new courtyard will be formed around the existing farm house and barn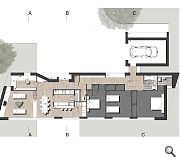 An unremarkable roundhouse will be demolished to ward off overdevelopment of the farm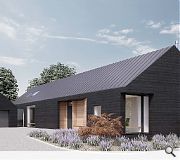 The rectilinear plan is just a single room in width
Back to November 2014