Dandara lodge plans for final phase of Glasgow Harbour
November 7 2014
Dandara has
submitted plans
for the
third and final phase of its long-stalled gh2o development at Glasgow Harbour
, moving into the private rental market with 348 flats on the waterfront plot.
Designed by Axis Mason Architecture the scheme will incorporate two commercial units and two levels of underground parking, arranged around a landscaped central courtyard and extended Clyde walkway – animated by a new retail unit.
Taking the form of an L shaped block the scheme steps down from 16 to 12 storeys and affords east/west connectivity through a triple height passage.
Ground floor apartments will be given their own terraces as a defensive buffer from public areas with continuous balconies above designed to maximize river views.
A façade frame has been specified to offer visual interest with the main body of the elevations composed of acid etched concrete panels
In their design statement Axis Mason noted: "The north facade will feature framed modules improving the articulation to the streetscape. Obscured screens provide a contrast to the clear glass of the southern façades and help protect residents from potential noise and the natural elements. This façade also reflects the context on the north side by using colour panels, similar in tone to the fabric of the surrounding context."
A decked multi-purpose activity space will be incorporated within the public realm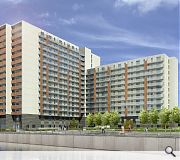 Recessed apartments attempt to reduce the mass of the block
Back to November 2014