Student housing rush reaches north Glasgow
October 23 2014
Watkin Jones has submitted plans for the creation of a
13-storey student residential
tower at North Hanover Street, Glasgow, to house 441 students – extending a pattern of ongoing investment in the sector.
The V-shaped brick clad block has been designed by Manson Architects to act as a gateway into the city with a tall, slender element on the corner of Dobbie's Loan stepping down to lower rise nine storey elements.
In their design statement Manson said: "The rational order and restrained articulation of the facades can be seen in, in particular clarity on the taller block toward the north of the site, where a tri-partite arrangement is in place. At the base, 6 levels of accommodation are split into pairs using the double order to create taller slimmer openings. The middle third uses simpler single storey window openings, while the upper 3 levels are banded together to create a triple height openings.
"Simple but bold moves have been made to create depth and relief on the facade - the triple height portico on the northern corner of the building creates an asymetrical frontage. A well-defined glazed slot creates two elements - the taller, slimmer element to the north and the longer, lower element to the south. A single, deep recess in the southern block will create a strong contrast of light and shadow on the elevation."
A separate scheme for the delivery of a
Glasgow Caledonian University campus expansion
planned for delivery to the immediate north.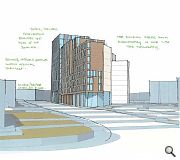 A glazed stairwell will bridge lower and high-rise elements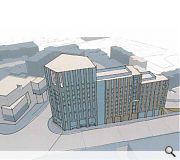 Street facing ground floor retail will be uncluded with a private landscaped courtyard to the rear
Back to October 2014