Aberdeen emerges as early Carbuncle favourite
October 20 2014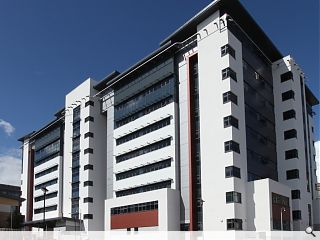 Aberdeen, 'where architecture goes to die' has emerged as an early front-runner in the Carbuncle Awards as the silver city fades to grey amidst a steady drip and questionable planning decisions.
The oil capital has been accused of turning its back on its main artery,
Union Street
, by sanctioning the remorseless expansion of undercover malls and presiding over a hollowing out of commercial and residential activity in favour of expansion in places such as Chapelton of Elsick, the largest New Town in Scotland, despite significant decay and dereliction in the city - notably at Broadford Works.
This is exacerbated by the continued consent of out-of-town office pavilions such as those in the Westhill area of the city which fail to add anything to the city proper and questions surrounding the dominance of a small number of construction and design firms in the city.
Individual buildings which have come in for criticism in recent years include BDP's Union Square, cited as
contributing to the retail voids on Union Street
and the
Matthew Hay emergency care centre
by Mackie Ramsay Taylor.
Urban Realm editor John Glenday said: "Aberdeen has a rich granite heritage and in the Victorian era the city was built to last, sadly the same can't be said of the flimsy, ill-considered buildings going up across the city today.
"Serious questions need to be asked of planners who appear to be simply rubber-stamping the schemes that are put in front of them. There appears to be an attitude of 'anything goes' as long as it brings in immediate cash.
"Despite its riches Aberdeen has become the poor relation of the Scottish cities."
Other
contenders for the dubious prize
include Maddiston in Falkirk and Leven in Fife. The winner will be announced early next year.
Back to October 2014