The Everyman Theatre, Liverpool, picks up 2014 Stirling Prize
October 17 2014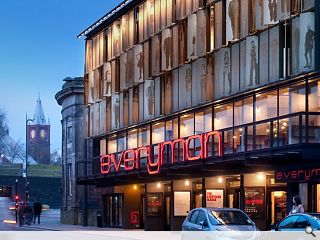 Haworth Tompkins Architects are celebrating after coming from behind to win the 2014 RIBA Stirling Prize for The Everyman Theatre, Liverpool – their first ever completely new theatre.
A nine year labour of love the project involved tearing down the dilapidated sixties theatre whilst retaining key features such as the shell of a nineteenth century chapel. Designed as a 'theatre of the people' it incorporates no less than three foyer bars, lounges and its own café around a 440 seat naturally ventilated auditorium.
RIBA President Stephen Hodder said: "The success of this exceptional new building lies in the architect's close involvement with the local community throughout the project. Haworth Tompkins has struck the perfect balance between continuity and change to win the hearts and minds of the people of Liverpool with the vibrant new Everyman. Complementing beautifully with the surrounding listed buildings, it is a ground-breaking example of how to build a daring bold and highly sustainable large public building in a historic city centre."
Elsewhere Denizen Works secured the Stephen Lawrence Prize for best project with a construction budget of less than £1m with House No.7, Isle of Tiree and Stormy Castle, Gower Peninsula, Wales, by Loyn & Co won the Manser Medal for best private home.
Everyman photography by Philip Vile, House No.7 photographed by David Barbour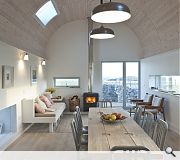 Denizen Works were acknowledged for their work to a smaller budget with House No.7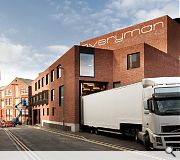 judges were won over by Everyman's people first approach
Back to October 2014