Dundee office re-clad to usher in new Hampton by Hilton hotel
October 15 2014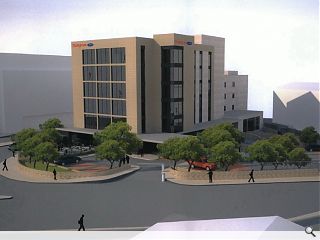 Planning permission is being sought by JSY Partnership for the
extension and re-clad of Argyll and Waverley House
on Dundee's Westmarketgait, opposite the new Council HQ, to form a 105 bedroom Hampton by Hilton hotel.
The Lindsay Gray Alan Beaton Partnership have been brought onboard to oversee the scheme, which will retain the existing structure, floor slab and roofs on both office blocks prior to being combined and clad in sandstone and render to create an homogenous whole.
In their design statement the architects said: "The massing of the building was pre-determined by the structure of the existing commercial building, so great care was taken with finishes, cladding, material and fenestration to ensure that the finished product inter-related with other built elements, as well as being pleasing to the eye."
Work on the conversion could begin by 2015.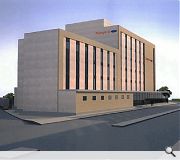 Both office blocks will be conjoined if the change of use application is accepted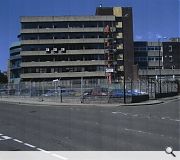 Neither existing building is of any architectural merit
Back to October 2014