Architects say thanks a million as St Bride's grant brings tower rebuild closer
October 15 2014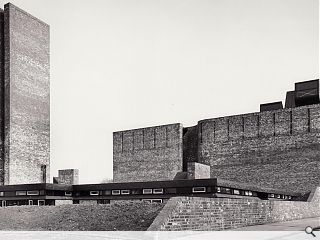 An endangered modernist church in East Kilbride has been handed a lifeline after waste management firm Viridor stumped up £1m to help finance the restoration and refurbishment of
Gillespie, Kidd and Coia's St. Bride's Church
.
A phased programme of works is planned by Stallan-Brand for the exposed building, with priority being given to the main church envelope which has suffered from water ingress over the years. The much needed cash will be ploughed into a restoration of the roof and walls of the A listed brick block,
hailed as one of Britain's best modern churches
, which still remains in daily use.
Later phases will concentrate on upgrading building services and an ancillary Presbytery + Church House, together with improvements to the external environment. Ultimately it is hoped to restore the original composition of the structure by rebuilding a feature bell tower which was sadly demolished in 1983. Fundraising to that end is still ongoing following the
sad passing of its chief architect, Professor Andy McMillan,
with well-wishers being urged to donate to the fund.
Stallan-Brand design director Paul Stallan commented: "St.Brides for me is the most important modernist buildings of the period. The church made from Victorian sewer bricks and concrete is both simple and complex. The architecture continues to be a key reference for students of architecture from across the world interested in modernism and the contemporary vernacular in context. Andy and Isi's work is as important to Scotland as Alvar Aalto's work is to the Finnish."
Images courtesy of GSA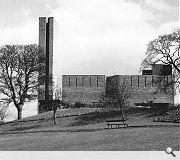 In its heyday St Bride's was seen as the jewel in the crown of East Kilbride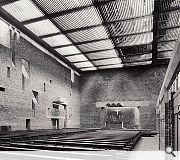 Time and the elements have been far kinder to St Bride's sister church, St.Peter's in Kilsyth
Back to October 2014