Urban Realm looks to Scotland's future in latest edition
October 16 2014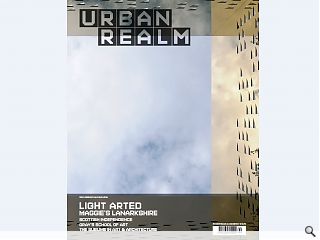 The night of 18 September 2014 will be long remembered as a turning point in UK politics, even if the ostensible result was in favour of the status quo but what are the implications for construction?
Most agree that the short to medium term is now far more secure as a result of the No vote but the longer term is far less clear cut. Nevertheless we attempt to answer that question with an in depth look at the arguments from both sides of the debate in the
autumn edition of Urban Realm
.
Elsewhere Paul Stallan takes a look at the distinguishing facets of Scottish art and architecture, specifically those areas in which they differ from Britain as a whole to put these strands in context.
Independent or not the architecture profession is in fine fettle as we discover with looks around the first new housing to be built in Laurieston for 30 years and the latest Maggie's Centre to be built in Scotland.
We also talk to one practice which is able to celebrate independence, AHR, following their recent 'demerger' from Aedas, we look at how this might influence their design approach and the efforts to create a new home-grown international champion.
On a sadder note Mark Chalmers delivers a final curtain call for the imperilled Gray's School of Art, Aberdeen, a fine example of High Modernism which may soon be needlessly consigned to history.
Back to October 2014