Edinburgh Sculpture Workshop readies for opening
October 9 2014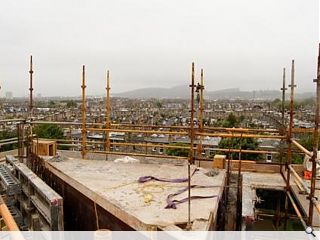 Edinburgh Sculpture Workshop (ESW) is readying its
Sutherland Hussey designed creative laboratories
for an official unveiling on 20 November.
The Newhaven cultural hub is situated within old railway sidings and will provide a home for sculptors dedicated to the research and production of contemporary visual art.
Dominated by a 22.5m triangular tower the studio takes the form of a single storey pavilion surrounding an outdoor courtyard housing spaces for events and the production and exhibition of work including 'ambitiously-scaled' pieces.
The tower itself was conceived as a 'visual and cultural beacon' and will play host to a new sound commission by Tommy Perman, Simon Kirby and Rob St John. Though initially inaccessible to the public an internal stair may be added at a later date.
ESW director Irene Kernan said: "The Arts Funding Prize represents a major investment in future generations of artists and will be a major resource for our local community in Newhaven as well as the city as a whole."
The new facilities are designed to complement ESW's Bill Scott Sculpture Centre, also designed by Sutherland Hussey, which opened its doors in July 2012.
Back to October 2014