Kelso High School plans win approval
October 7 2014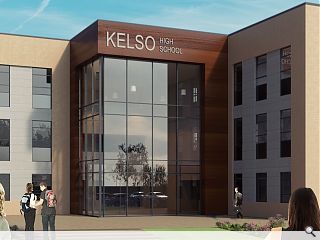 Scottish Borders Council planners have approved designs for a
new Kelso High School
at Nethershot on Angraflat Road.
Designed by Cooper Cromar for delivery by Morrison Construction, on behalf of Hub South East Scotland, the school will be clad in timber effect laminated panels, Forticrete Slitfaced Block and composite panels.
A design statement for the project read: "The proposed building has evolved from early iterations showing a central 'hub' or 'hinge' around which 2 wings were joined, to a single building with strong principal elevation to Angraflat Road. The central 'hub' or entrance feature is still evident in the current design but the building is no longer hinged at this location.
"The south elevation is effectively made up of three distinct elements punctuated by the glazed entrance feature. The building continues to have strong sense of horizontality but the proposed palette of external materials which introduces contrasting vertical elements will help to break up this expansive principal elevation. There is a distinct 'beginning', 'middle' and 'end' to the building, reinforced by the proposed "picture frames" around the south west and north east corners of the front elevation."
"A proposed glazed 'wall' to the stair circulation space on the front elevation will also introduce an additional vertical element which will help to reduce the buildings horizontality and give the building more vertical rhythm."
Work on the £21.8m school is now expected to begin early in the New Year for completion by autumn 2016 and includes grass and synthetic sports pitches and other facilities within a self-contained 'community wing'.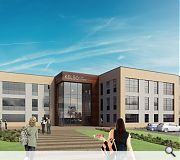 The school adopts a long linear profile to Angraflat Road
Back to October 2014