Springburn Winter Gardens shortlist unveiled
September 23 2014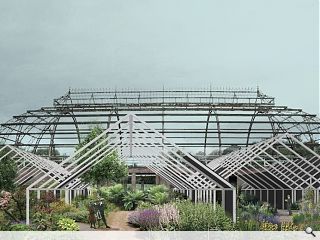 A shortlist of five finalists from 25 entrants have been chosen in an
ideas contest geared toward the rehabilitation of Springburn Winter Gardens
; – the skeletal remains of a Victorian glasshouse to the north of Glasgow.
These vary in approach from plans by The City of Play Design (scheme A) to transform the dilapidated site into a garden maze to David Tinto's suggestion (scheme B) of establishing a 'Memory Box', a roller-fitted pavilion which can be split and joined along a custom built track.
Ruggero Lancia meanwhile (scheme C) has opted for a more conventional garden space which is flowery in both conception and language, as Lancia states: "The topography of the intervention site has been tessellated following a recursive subdivision process."
WAP Architects take a different tack in scheme D, pursuing a seasonal summer garden as a counterpoint to the enveloping winter variety. This consciously adopts a grid layout in cognisance of Glasgow's famous street layout.
Last, and certainly not least, James Hand and Nik Klahre have conceived of a sequence of contemporary sheds (scheme E) which recall the structural prowess of the rusting original.
Each scheme is currently the subject of a vote, now ongoing at a public exhibition in the offices of NG Homes, with the winner to be announced by the Glasgow Institute of Architects in November.
Back to September 2014