Reiach & Hall showcase Maggie's Lanarkshire
September 18 2014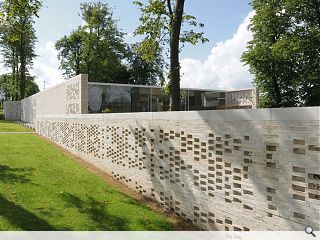 Reiach & Hall Architects have unveiled their completed
Maggie's Centre for NHS Lanarkshire
, a low slung steel framed brick pavilion within the grounds of Monklands Hospital.
The £1m scheme is arranged around two central courts animated by highly polished gold perforated metal light catchers to maximise daylight whilst externally there are four small sheltered courts designed to maximise shelter and create quiet spaces for contemplation.
Timber partitions allow for the creation of smaller, more private spaces or, conversely, for public rooms to be joined together for special occasions.
In a statement the architects said: "Visitors enter a quiet simple space, an arrival court, defined by brick walls and two lime trees. At once there is a sense of dignity and calm. A linear rill, a spring, animates the space with the sound of running water, a refreshing source and an intimation of beginnings. A simple piece of text, allt beag, little burn, has been cast into the rill by poet Thomas A Clark heightening the sense of tranquility and reflection. A simple bench offers the opportunity of a pause.
"The journey through the building emerges out into a large walled garden that slopes down to the east; generous terraces give way to a richly planted garden that in time will create its own pockets of space for quiet reflection or conversation."
The build is finished in a palette of blonde Finnish birch, limed oak and white stained pine.

Photography by David Grandorge and Broaddaylight
Back to September 2014