Work to begin on £9m St Andrews hotel
September 16 2014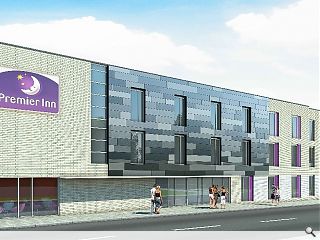 Work to deliver a
£9m hotel and retail development in St Andrews, Fife
, is to progress next month after Crucible (St Andrews) gave the green light to construction.
Designed by Michael Laird Architects the scheme will incorporate a 65 room Premier Inn hotel alongside an M&S Simply Food store on the site of a former abbatoir which will soon be demolished.
This will make way for a main hotel build clad in light brick with a dark ceramic entrance, designed to blend with an adjacent glazed and ceramic tile clad retail pavilion.
In a planning statement property consultants Ryden said: "The subject site consists of an unused, unsightly brownfield site which lies adjacent to residential properties and within a mixed use area of St Andrews. There is strong, well established planning policy support, at a local, regional and national level, for the redevelopment of brownfield sites within existing settlements. The proposals are sustainable and will make use of a very under-utilised site, located within a commercial area of St Andrews."
Back to September 2014