Airdrie 'Skytower' earns architecture award
September 12 2014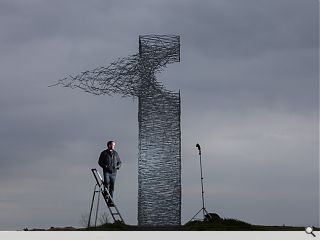 An Airdrie sculpture has won an architectural award for its role in regenerating disused spaces in the town.
Designed by artist Rob Mulholland in collaboration with local schoolchildren Skytower is intended to reflect the power of nature and was erected back in June 2013.
Woven from individually cut lengths of metal rod to resemble sticks and willow the piece stands 6m tall on its hilltop site.
Andy Gallacher, Forestry Commission Scotland community ranger for Airdrie commented: "The sculpture is fantastic and certainly makes a statement on the landscape. We wanted to find a way of getting the local community involved with the regeneration of the woodland."
Mulholland, who has just completed designs for two sculptures as artist in residency at Cuningar Loop, added: "It was really great to receive this award, particularly as it crosses professional boundaries; I never thought I would receive the main architectural award."
Skytower won a Galvanizing in Architecture award from the Galvanizers Association.
Photography by Ashley Coombes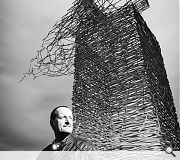 Mulholland was blown away by the accolade
Back to September 2014