RSNO seek to hit the right note with new home
September 10 2014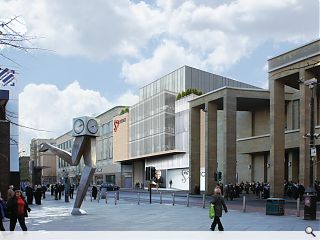 The Royal Scottish National Orchestra is mounting a fresh push to attract donations to help fund its new home on Glasgow's Killermont Street following completion of a structural frame for the new build.
When complete the facility will provide a dedicated performance and rehearsal space for the cultural organisation, including a 600 seat auditorium, studio, foyer and library.
It will also serve as a new northern entrance to the Glasgow Royal Concert Hall within which it is embedded.
The scheme has secured £15.6m of the £17.6m cost by way of grants from the Scottish Government and Glasgow City Council with the RSNO funding the remaining £2m directly.
The RSNO's move comes ahead of the development of a new
cinema further down Killermont Street
as part of the £300m Buchanan Galleries master plan.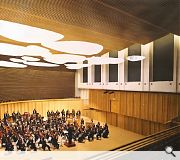 A 600 seat auditorium sits at the heart of the scheme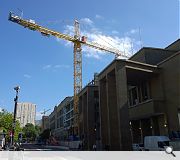 The project has been hit with delays having initially been targetted for a summer 2014 opening
Back to September 2014