Double crescent Aberdeen orchard home unveiled
August 27 2014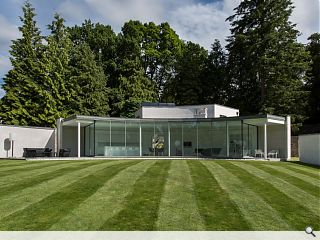 Graham Mitchell Architects have unveiled a walled garden house situated within a former orchard in the Lower Deeside Valley, Aberdeen.
Defined by a curving stone wall the site now plays host to a double crescent three-bedroom home finished in Flemish bond platinum white brick and full height glazing under an oversailing roof.
This distinctive form divides accommodation into two distinct private and public blocks which together frame a secluded entrance space, with natural light drawn through 3.2m high glazing.
In their design statement the practice noted: "The double crescent shape is informed by the existing curved garden wall and each wall adjusts in size and angle to suit the function of the room within. Split into two distinct blocks sliding past each other the entrance is located in the space between and provides a secluded approach flanked by tall white brick walls.
"While the existing wall surrounds and protects the garden so the solid elements of the house seek to emulate this. The found feeling of enclosure is continued upon entry as the spine brick walls differentiate between the public and private areas of the house. Top-lit by rooflights the entrance hall serves as a habitable link between the two blocks."
Photography by Gillian Hayes of Dapple Photography
Back to August 2014