Paisley pupils begin lessons at £15.9m St James' Primary
August 20 2014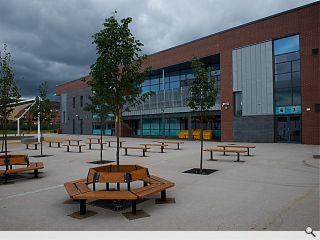 455 pupils are beginning the new academic year at the £15.9m St James' Primary, Paisley, a replacement for the existing property which will now be demolished.
Designed in-house by Renfrewshire Council the school incorporates a nursery and community education facility. It also draws its own solar, wind and biomass power.
Head teacher Margaret Convery said, "Everything is so well thought through. Operationally it's fantastic. The sound system is all built-in and we have everything you could imagine and more!
"The building is important, as is the educational philosophy which underpins it. Our children are at the heart of our school and at the heart of the design."
Councillor Jacqueline Henry added, "Learning in schools today is more active and interesting than ever and the semi-open plan 'classroom' areas really contribute to innovative approaches to teaching and learning."
Additional car parking and a synthetic pitch will now be built on the site of the former school post demolition.
Back to August 2014