Alumno complete work on Partick student residential build
August 12 2014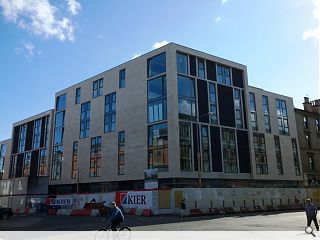 Alumno Developments have completed their latest student housing venture at Dumbarton Road, Glasgow, two years after
winning planning permission
.
Faced with blonde sandstone, dark brick and zinc the scheme offers 174 rooms and ground floor retail, presenting alternating 'shoes of stone' to break up the buildings mass from the street.
In a design statement Carson & Partners said: "The principle idea for the site, in terms of both programme and massing, has been to treat the design as a series of defined blocks which vary in scale according to context .
"The strategy behind the placement of the block on site has been developed to reinstate a unified and coherent streetscape to the old Comet site block providing a strong edge to Dumbarton Road / Keith Street and Walker Street."
A rooftop amenity deck has also been created for use by residents.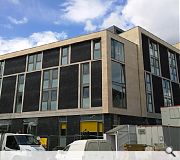 Glazed setbacks are employed at higher levels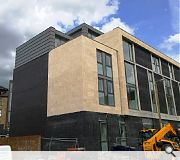 The six storey block has been designed to be in scale with surrounding tenements
Back to August 2014