Dandara host Glasgow Harbour public exhibition
August 7 2014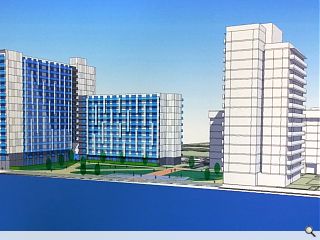 Property developer Dandara has hosted a public exhibition detailing its revised plans for completion of its
Glasgow Harbour estate
, departing from an existing master plan to cut costs.
Designed by Axis Mason the properties will incorporate some ancillary commercial spaces, as well as access improvements, public realm landscaping and car parking the scheme will rise opposite a planned Tesco supermarket.
All properties will be marketed for private rental rather than sale in response to government moves to diversify the housing base and takes the form of an L-shaped block enclosing a landscaped green space.
In a statement Dandara said: "Our proposals consist of 339 apartments in a range of sizes including studios, 1-bed and 2-bed apartments which will range in height from 11 to 15 storeys. The design approach seeks to be consistent with the existing, built, phase one and two of gh2o with regards to scale, mass and elevational appearance."
A sister scheme is also on the cards for Cheapside Street, one of five projects Dandara are currently pursuing around the UK.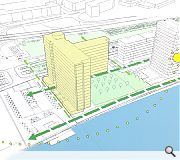 The mothballed site is back on the cards as confidence returns
Back to August 2014