Floating art installation to make waves on the Clyde
August 7 2014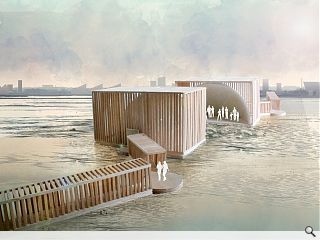 The European premiere of a floating art installation designed to commemorate the 100th anniversary of the First World War is to take place on the River Clyde as part of Merchant City Festival 2015,
No Man's Land explores the city's relationship with its urban waterways in the form of floating walkways that evoke wartime pontoons, with the wooden architecture of the trenches combining with two halves of a dome separated by a 'no man's land' of water.
Every twenty minutes the two sections will join together to form an auditorium for the recital of stories and poems relating to the conflict.
Gordon Matheson, leader of Glasgow City Council, said: "What I love most about it [merchant City Festival] is that it provides opportunities for those who think art might not be for them to get involved and give it a go and No Man's Land is a major piece of public art which will further encourage people to do just that. That is good for the individual and for building a greater audience for arts in Glasgow."
A collaboration between Glasgow Life, Sydney Harbour Foreshore Authority and Urbane Kuenste Ruhr in Germany, the piece will be unveiled next July at Custom House Quay from where it will sail up and down the river over a three week period.
Back to August 2014