Dowanhill flats completion marks residential revival
August 6 2014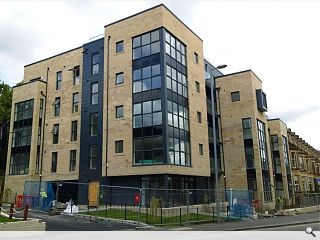 A development of 19 flats for private sale, amongst the first to be built in Glasgow post-recession, is nearing completion in the heart of the west end on Highburgh Road.
Bookending a B-listed terrace the Street Design partnership scheme on behalf of Red Eye Developments adopts a palette of natural stone and grey terracotta within its conservation area setting.
Marketed as
The Observatory
the project extends the building line along formerly vacant ground and incorporates a rooftop terrace and undercroft parking.
In their design statement the architects noted: "From the outset, officers at the Council accepted that a contemporary approach towards design would be appropriate, as it would complement the context whilst providing the building with its own identity, thus creating a strong sense of place on this parcel of land at the end of the long run of terraces.
"Large windows maximise natural light and bays animate the facade and provide depth to elevations, required for interest. The scale of the proposed window openings are influenced by the scale of the window openings to the adjacent terraced properties. Such design elements, in addition to good quality detailing, ensures a building of strong architectural merit is achieved."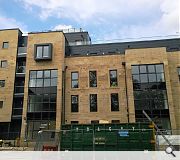 A roof terrace will be accessible to all occupants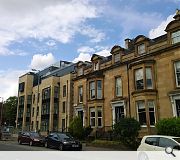 A top floor is set back to marry with adjacent terraced housing
Back to August 2014