Holmes Miller win Fencedyke design competition
August 4 2014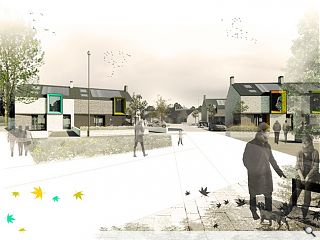 Holmes Miller Architects have seen off competition from Austin Smith Lord and Richard Murphy Architects to win a housing design competition for the Fencedyke area of Irvine.
The £4.25m project will deliver 35 new homes on the site of an existing primary school, which is in the process of amalgamation, through the principles of Designing Streets.
Faced in brick under traditional slate roofs the properties have been given a contemporary twist in the form of feature hooded windows with coloured infill panels.
A spokesman for North Ayrshire Council told Urban Realm: "For the Fencedyke project, the Council sought to appoint a project manager, who in turn would contract their own project team (including architects).
"In line with procurement regulations, the Council utilised a Scottish Government framework where nine project management organisations were invited to participate in a design competition. Three organisations chose to take part.
"Holmes Miller, Austin Smith Lord and Richard Murphy Architects all made submissions as part of wider teams."
North Ayrshire Council anticipate hand over of the scheme in March 2016.
Back to August 2014