Silverburn master plan details town centre vision
July 25 2014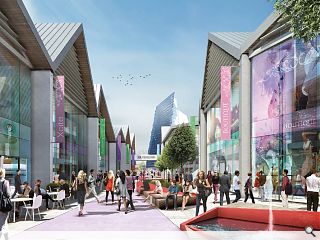 A fresh
master plan outlining the future evolution of the Silverburn shopping centre
on the south side of Glasgow has been prepared by Retail Property Holdings.
It illustrates how the mall might expand over existing car parking and service areas to become a new town centre with an active frontage of small flexible units accessed along a central 'street' alongside a new public square off the M77, the latter of which the developer hasn't committed to.
Remaining areas of parking will be replaced with a decked facility with roof space given over to recreational usage, including sports pitches. A feature seven storey hotel would dominate the new square opposite the existing Tesco store, drawing sightlines to the existing Silverburn entrance.
Elsewhere the Brock Burn will be upgraded to form a new area of parkland to improve accessibility from surrounding housing estates via new footpaths and cycleways, helping to connect the centre to planned housing developments in Cowglen.
In their design statement FaulknerBrowns Architects said: "New development at Silverburn generates the opportunity to deliver new architectural landmarks. These landmarks will act to generate visual interest in the Pollok Silverburn context that acts to modulate the development massing, providing key features to assist way finding around and within the town centre."
The master plan comes as work continues on delivery of a
leisure focussed extension of the centre
.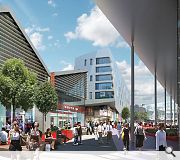 A landscape strategy has been devised to 'buffer' the development from the motorway
Coinnectivity with existing communities in Greater Pollok is being explored
Back to July 2014