Grey Aberdeen hotel scheme hits planners desks
July 24 2014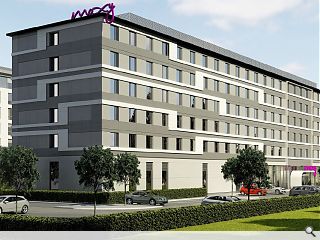 Marriott has
submitted plans
for a £15m
Moxy branded hotel
within the environs of Aberdeen Airport, Dyce, part of the ABZ business park.
The six-storey scheme, designed by ICA Architects, will offer 200 bedrooms and is intended to create a 'structured building line' along Dyce Drive.
In their design statement ICA say: "A high quality aluminium cladding panel system has been selected which can offer varying levels of relief within the façade. This combined with a dynamic horizontal ribboned pattern offers a lively and varied elevational treatment.
"The ground floor is perceived as a plinth which contains both the hotels front and back of house areas. These areas are clearly identifiable through the use of solid wall panels in back of house areas and large areas of glazing to front of house spaces. These glazed elements help to activate the external seating areas while clearly demarcating the main entrance on arrival.
"The main public entrance is further emphasised with a projecting canopy and a large goal post projection that extends up the façade of the building to the eaves level."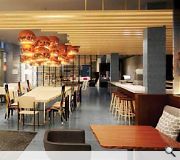 Ground floor front of house areas include a lounge and restaurant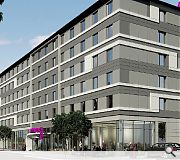 The rectangular slab will sit alongside the Marriott Courtyard and Premier Inn
Back to July 2014