RSA to exhibit RGU students Peterhead master plan
July 22 2014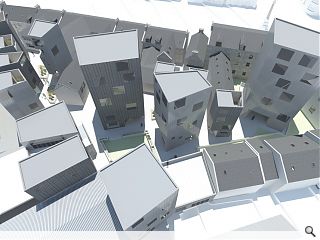 An award winning final year architecture students master plan for Peterhead, Aberdeenshire, at Robert Gordon University is to be exhibited at the Royal Scottish Academy's New Contemporaries Exhibition 2015, Edinburgh, the annual emerging artist/architect showcase.
Resilient Towns outlines how the north-east fishing port could be given a new lease of life through relocation of Aberdeenshire Council, extensive house building and expanded activities on its harbour.
This entailed creation of a giant model with individual students tasked with designing specific developments within that plan as part of efforts to identify how closely people may comfortably live together.
Amongst them was Lauren Jenkins, now architectural assistant at JAMstudio, who said: "My research focussed heavily on the implementation of higher density housing through various housing styles and design, utilising the idea of creating a sense of place and community as a catalyst for bringing people back to the town centre. By doing so it looks to combat the current trend of low-density suburban sprawl. Drawing inspiration from areas such as Aberdeen's Footdee, and other contemporary housing schemes in the UK and abroad, I created a series of sheltered and intimate spaces that encourage social interaction and aspire to generate a strong sense of community.
"The outline proposal of the project involved the densification/repopulation of empty or rundown spaces in the town. This was achieved by making a series of tower houses, which provide views over the harbour and town, while also creating interesting and more vibrant pedestrian pathways at lower levels. The scheme aims to accommodate a variety of different households by incorporating a mix of sizes from individual dwelling towers with private rooftop terraces to flats and maisonettes."
Others to participate in the project included Andrew Stewart,
winner of an A+DS/RIAS best student award
, Niall Watson and Kadum Mahboba.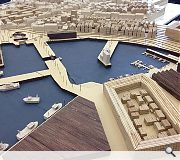 Ideas on display include plugging Peterhead into the planned Energetica sustainable energy corridor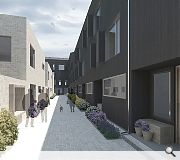 The scheme aims to seek an alternative to the waves of suburban sprawl planned for the north east in areas such as Countesswells, Chapelton and Oldfold Farm
Back to July 2014