Aberdeen office scheme to move on site
July 14 2014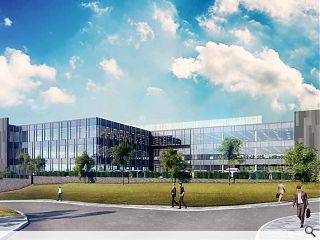 Work to build a
speculative office block
on the site of a former caravan park at Altens, Aberdeen, is set to get underway before the year is out.
Project halo, designed by Mosaic Architecture on behalf of HFD Citypark 2 the plan is being timed for delivery in 2016 and will offer undercroft parking
In their design statement Mosaic noted: "The main part of the Project Halo building is three storeys in height whilst the northern wing also has undercroft parking which takes up the change in level that occurs across the site. Whilst larger in stature than some of the immediately surrounding buildings the Project Halo building reflects the scale of the adjacent consented Project Noble building and the slightly more distant Shell and Nexen buildings"
The project follows the recent submission of plans for a
62,500sq/ft office block
elsewhere on the industrial estate.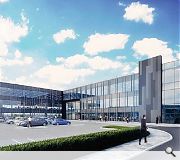 Halo is located 2 miles south of the city centre on Altens Farm Road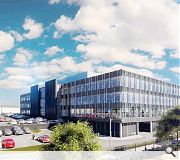 The property has been angled to maximise views over Aberdeen
Back to July 2014