BBC Sport complete 'chalet style' Glasgow 2014 studios
July 11 2014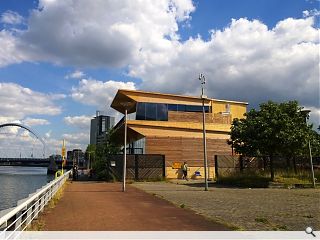 The BBC has ramped up its production capabilities ahead of the Commonwealth Games with the completion of a temporary outdoor broadcast suite adjacent to its Glasgow base at Pacific Quay.
A prefabricated plywood structure was chosen following the broadcaster's decision to base its production centre within BBC Scotland rather than in the International Broadcast Centre – which sits directly across the river at the SECC.
This will house a TV studio for BBC1 presentations alongside a separate news, nations and regions block housing six separate broadcast studios. Digital and post-production work will remain the responsibility of Quay House, Salford.
A BBC Spokesperson said: "The Chalet style studio is a structure called the Hochsitz and provides a temporary studio option that meets all BBC requirements for coverage of the Games. This is the first time the BBC has used the studio.
"Made by an Austrian company the Hochsitz was initially built for use by the ORF (Austria¹s National broadcaster) during the World skiing championships held in Austria in 2013 and has since been used as a temporary studio across the television and hospitality industries.
"We don¹t disclose production costs as this is commercially sensitive information."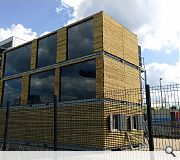 Studios will boast a panoramic view of local landmarks such as the Armadillo, Hydro and Finnieston crane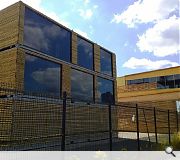 The BBC is gearing up to air 1,300 hours of live video coverage from Glasgow
Back to July 2014