Concept designs for £8m Leven regeneration published
July 2 2014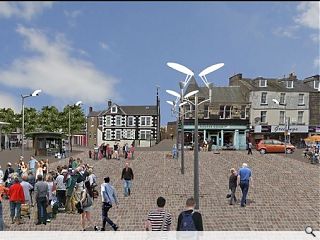 Fife Council and Willie Miller Urban Design have published their final report in an 18 month regeneration study for the Fife town of Leven.
A series of concept designs for the £8m project were released in the hope of leveraging the necessary cash to deliver the project with planners earmarking five areas of the town as a priority for public realm improvements; namely the Shorehead, Promenade and High Street, health centre and Parkhill.
This would see redundant spaces and buildings given new uses, superfluous signage removed, pedestrian areas enhanced and new green spaces introduced. Focus of this work would be the waterfront which would be turned into a new destination for tourists and locals through provision of flexible public space to host various markets and events.
Councillor David Alexander called for additional supporting evidence that the scheme would generate greater footfall however, saying: "Levenmouth has more going for it than many other centres but the one thing that is missing are the benefits of this. How many more people will shop there?"
An application for a £1m Regeneration Capital Funding Grant will be made by the local authority.
Back to July 2014