University of Edinburgh plans delivery of £32m campus hub
July 2 2014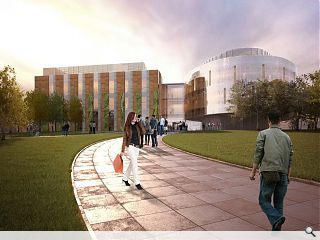 The University of Edinburgh is progressing a
£32m Innovation Centre and Campus Hub
at its Easter Bush Campus. The new building will provide laboratory and office space for tenant companies alongside a public outreach centre and hub facilities (shop, gym and more) for all based at the campus.
Designed by Atkins the Centre building will provide a 'visual gateway' and will stand as the sole structure within a landscaped, car-free strip stretching the full extent of the Easter Bush Campus.
Split into two key elements the design seeks to avoid acting as a barrier, instead focussing on integrating the different elements of the campus with access to this landscaped space by splitting its volume into two, conjoined by a glazed link, with extensive use of natural materials such as stone and a living wall together with a glass skin engraved with a leaf pattern.
The work is the latest step in the ongoing delivery of a 25 year campus master plan which has seen completion of the National
Avian Research Facility
,
Roslin Institute Building
and new teaching facilities for the Royal (Dick) School of Veterinary Studies. The projects form part of a wider effort to attract leading international scientists to the city through signature architecture.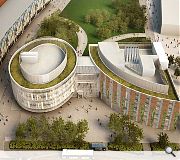 A number of past their sell by date 1950's buildings have been demolished to amke way for the new hub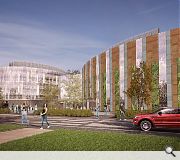 A range of social spaces will be provided for scientists and support staff
Back to July 2014