Plans submitted for new Kelso High School
July 1 2014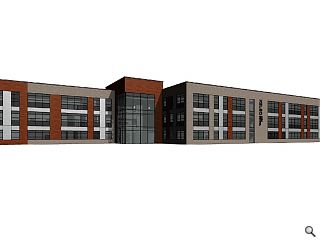 Scottish Borders Council have
submitted plans for a £21.8m Kelso High School
following a deal with land owners at Lothian Estates for the use of ground at Nethershot, Angraflat Road.
Delivered in partnership with Hub South East Scotland the new school has been designed by Cooper Cromar and will be built by Morrison Construction.
Combining facing blockwork with areas of feature timber cladding the school is described by its architects as being '…based on the learning hub concept which organises the schools teaching spaces as a 'wrap' around an open central atrium 'heart space'."
Councillor Sandy Aitchison, SBC executive member for education, said: "With a land purchase agreement already in place, I am pleased to see the project progressing and look forward to a brand new facility which will provide an improved learning environment for generations of Kelso children."
The
existing Kelso High is an art-deco landmark
in the town.
Back to July 2014