Zaha Hadid & Foster line up to support GSoA fundraising drive
June 25 2014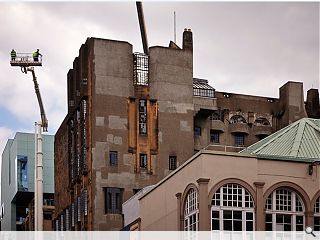 A host of architects from at home and abroad are getting behind a Glasgow based art show which is raising funds for ENABLE Scotland and the
fire-hit Glasgow School of Art
.
Participants in Architecture Meets Art include Zaha Hadid, Foster + Partners, Graven images, Gareth Hoskins and Page/Park with the shared goal of celebrating the cultural importance of Glasgow's art and architecture.
Hazel McIIwraith, assistant director of fundraising for ENABLE said, "It's our 60th anniversary year and we want to highlight the steps forward Scotland has made over these 6 decades: artistically, architecturally and culturally. I cannot thank the artists and architects enough for joining us and raising funds for ENABLE Scotland and Glasgow School of Art, which was so cruelly damaged by fire this summer."
#AmeetsA will culminate in an exhibition of art works to be staged in the Italian Centre from 16 to 29 October before being auctioned off at a dinner function.
Back to June 2014