Aberdeen school conversion goes ahead
June 25 2014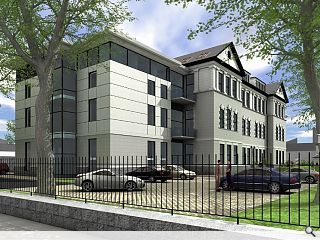 Mile End Developments are to press ahead with plans to transform a former primary school into a new residential scheme of 34 apartments and one house in Aberdeen's west end.
Mile End School is located on Midstocket Road will incorporate a range of one to three bed apartments and penthouses surrounded by private gardens.
Designed by Canale Associates the scheme will see the addition of two new build wings at either end of the refurbished school finished in coursed granite
Planners
approved the scheme back in 2012
after securing commitments toward affordable housing and planning gain contributions.
Back to June 2014