Bennetts unveil Edinburgh marine energy testing tank
June 10 2014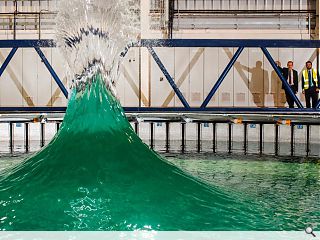 Bennetts Associates have completed a
marine wave and tidal testing facility
for the University of Edinburgh, designed to trial new renewable energy technologies in a controlled environment.
The £9.5m FloWave Ocean Energy Research Facility can simulate waves up to 28m in height and currents of up to 14 knots in its 2.4m litre tank. These capabilities can be used to simulate a wide variety of coastal waters and opens up avenues for researchers and industry to develop a new generation of tidal energy converters, floating offshore wind platforms, and vessels to install and maintain offshore projects.
In addition to the 25 x 2m circular pool the complex also boasts a model workshop, office and meeting space all housed within a naturally ventilated and highly insulated structure.
Professor Philip Nelson, chief executive of project co-funders the Engineering and Physical Sciences Research Council, said: "EPSRC's investment in the FloWave facility will help keep the UK at the forefront of marine energy technology research and development. Research here can accelerate the deployment of these technologies which, in turn, will help us meet our low-carbon targets create jobs and boost growth."
Mace served as project manager for the build with structural and service engineering services provided by Arup.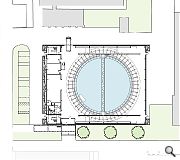 A ground floor plan for the unique build
Back to June 2014