Citizens Theatre secures £4.9m HLF funding
June 10 2014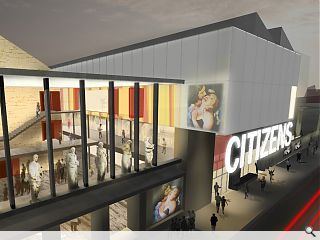 Glasgow's Citizens Theatre has secured a £4.9m of earmarked funding from the Heritage Lottery in support of its redevelopment, paving the way for a formal planning application to be submitted.
Overseen by Bennetts Associates the overhaul will provide
contemporary facilities whilst retaining the Victorian auditorium and theatre machinery
; including a unique paint frame that continues to be used to paint backcloths.
This will see 20th century additions removed and replaced together with the creation of a new foyer , studios, workshop, offices and catering. Accessibility will also be improved with lift access introduced and public viewing windows installed to expose historic machinery.
Work will also be undertaken to archive and open up the theatre's collection of artefacts, materials, pictures, literature, scripts and costumes will be centralised and catalogued for the first time.
Most prominently however the theatre's exterior will also be remodeled with the return of statues of Shakespeare, Burns and the four Muses salvaged from the original 1878 façade.
Alasdair Gordon, associate director at Bennetts Associates' Edinburgh office, said: "The theatre's heritage is at the centre of our design proposals, and will be revealed in new ways alongside much needed new foyer, rehearsal, education and studio spaces. All parties involved have a shared vision to create a landmark building for the community and this vital funding brings us one step closer to realising that vision."
Back to June 2014