Steven Holl delivers Reid Building inaugural address
April 9 2014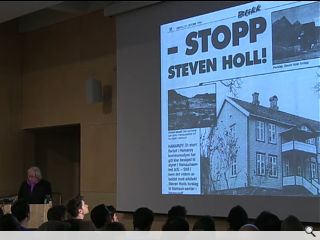 New York based architect Steven Holl (and half his office) have flown into Glasgow armed with some choice one-liners and a purple cravat in order to deliver the inaugural address for the Glasgow School of Art's Reid Building, which officially opens its doors today.
Addressing a crowd of invited guests and curious members of the public within the Reid auditorium, sadly discoloured following the application of fire retardant to wood panels which the contractor is replacing, Holl said: "I've never worn a purple scarf before and I'm wearing this in honour of Mackintosh. My connection goes back to the 1970's when my professor gave a lecture at the University of Washington and he dedicated it to Mackintosh and the Glasgow School of Art.
"His idea of the history of modern architecture started with Brunelleschi and Schinkel in Berlin and then moved to Louis Sullivan and Frank Lloyd Wright. In the middle of that he inserts one full lecture on Mackintosh. Le Corbusier didn't even show up, he wasn't in there, when I graduated I didn't even know who Le Corbusier was!"
Commenting directly on the project Holl continued: "When we won the competition we made the building taller because I knew we were going to have to lower it and so we lowered it three times and you know what? It's just right, it was too tall before!
"Originally we wanted to use recycled glass which had a soda content to it which gives that light green colour but it was too expensive. I always wanted that contrast with the ochre colour of the Mac but the soda content of the glass we used got the colour almost the same.
"The contrast between these two buildings is 100 per cent what I wanted, I don't care about what any of the critics said, they don't get it. Mackintosh's building shocked everyone at the time and this building has a deep connection to that moment in 1904."
Back to April 2014