£34m Inverness Royal Academy set for July start
April 9 2014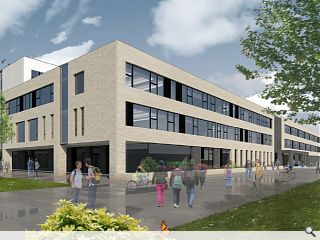 Plans to build the largest school in the Highlands, a 1,420 place replacement for the existing dilapidated
Inverness Royal Academy
, have been given the green light from planners.
The decision clears the way for Miller Construction to move on-site of the JM Architects designed build this July at Culduthel Park, progressing plans for a new games hall, dance studio, gymnasium together with a number of community sports pitches which will take the place of the demolished existing school post-completion.
In their design statement JM write: "In recognition of the practical need to utilise robust, durable and low maintenance materials on modern, publicly accessible educational facilities the lower levels of the building will be clad with a reconstituted stone concrete panel in a dark tone, to create a plinth that the upper floors of the building will sit upon. At the entrances on the north and south elevation, this same material will be used to form entrance canopies. These are designed to appear as if they have been extruded from the building mass itself, rather than 'clipped' onto the facades.
"On the upper floors of the building the games halls are treated with a different aesthetic to the core teaching accommodation. This reflects the differences between the volumes and functions of the spaces behind the facades. The upper floors of the core teaching accommodation will be clad in brick to the south and reconstituted stone concrete panels to the north."
Work on the new school is expected to complete in May 2016.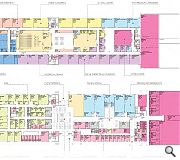 The giant school will have 90 classrooms
Back to April 2014