Red Road to bring the house down at Commonwealth Games
April 3 2014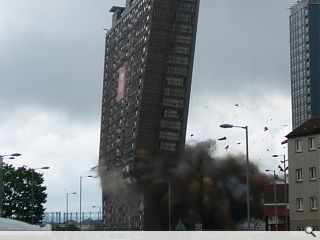 Glasgow's Red Road flats are set to provide a dramatic set-piece for the Commonwealth Games opening ceremony after contractor Safedem were asked to synchronise their explosive demise for a live link-up to Celtic Park for the Commonwealth Games opening.
Five of six 30-storey blocks remaining will be brought down simultaneously in a dramatic 15 sec blow down in the largest demolition of its kind ever undertaken in Europe.
An estimated TV audience of 1.5bn will tune in to witness the spectacle with local residents, facing evacuation during the blow down process, being offered spaces at Commonwealth games events.
David Zolkwer, head of ceremonies & artistic director for Glasgow 2014 said: "It's such a privilege to be able to share this historic and dramatic moment with the people of Scotland and the watching world. Over the course of just a few seconds the city's skyline will be transformed forever. It's a bold and confident statement that says "bring on the future" but it will also be an important opportunity for us to contemplate the many lives lived in the tower blocks over the last fifty years.
"By sharing the blow down with the rest of the world, I hope it will be seen as the noble, respectful and celebratory send-off that it is intended to be."
Two blocks on the estate were demolished in 2012 and 2013
whilst one will remain temporarily to house asylum seekers.
Back to April 2014