Row erupts over 'cost-driven' public procurement
April 2 2014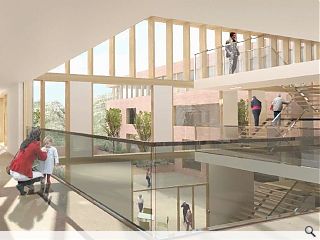 Richard Murphy has triggered a broader debate on the state of public procurement in Scotland after breaking cover to attack the Scottish Government for sacrificing design in favour of 'cost-driven competitions'.
In an opinion piece for The Scotsman Murphy claimed the profession was being strangled by a combination of planners averse to modern architecture and a focus on economy above all else when procuring major public works. Murphy wrote: "… the system for public buildings means contractors compete for projects, choose the architects, and fees are rock-bottom. Design is the last thing they think about."
This concern is one that has found echo in much of the architectural community with Ian Springford telling Urban Realm: "... public bodies are genuinely terrified of selecting anyone other than the lowest fee bid in case the press or public attack them for 'wasting public money'.
Springford added: "We often find public tenders are managed by someone with little or no construction or architectural background. It is often a 'procurement manager' that can be purchasing cleaning services one day and then asked to procure a design team the next. They don't know what the critical issues are or questions that should be asked of a potential bidder. Consequently, we find these PQQ's ask assess meaningless procedural information (eg equal opportunity policy) above project specific issues.
"Standard practice is to ask for examples of near identical completed projects but no assessment whether they are actually any good! This results in the same practices producing the same buildings, making the same mistakes."
Defending government policy Heather Chapple, design adviser at Architecture + Design Scotland, pointed to the Crawford Review of Construction Procurement, which recommended a system of Design Led Procurement, as a means of squaring the circle by better utilising existing government advice and frameworks without necessitating a change in the law.
Outlining how this recommendation will take effect Chapple told Urban Realm that authorities must: "Define strategic design objectives for the project at the outset and make them an intrinsic part of the means for measuring the success of the project."
Urban Realm will be delving deeper into the issue of procurement in our next edition, to contribute (on or off the record) please contact John Glenday at john@urbanrealm.com or 0141 559 6087.
Back to April 2014