Fantasy Edinburgh skyline promotes new sci-fi flick
March 28 2014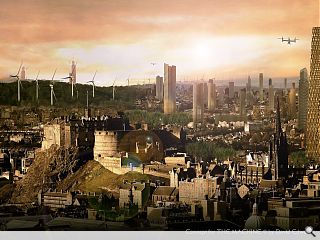 Promoters of a new British sci-fi film imagining a near future Britain engaged in a cold war with China have released concept art of the changes this may bring to the country, notably Edinburgh.
In visualisations likely to perturb UNESCO artist David Edwards depicts the historic skyline punctuated by a multitude of high-rise protrusions, bi-copters and the mother of all wind farms.
Depicting the city in just 30 years' time it imagines a world in which the Ministry of Defence has developed an artificial intelligence which has the capability to fight as well as negotiate on our behalf.
It follows previous movie depictions which have seen Glasgow act as a
stand-in for Philadelphia in World War Z
, as well as a post-apocalyptic wasteland in Doomsday.
The Machine is screening in cinemas now and will release on DVD/Blu-ray on 31 March.
Back to March 2014