Grassmarket Community Project claims Scottish Civic Trust's My Place Award
March 28 2014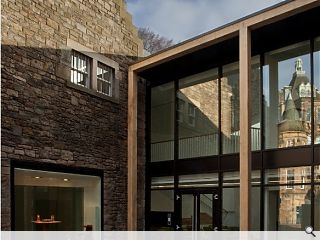 Grassmarket Community Project
, a centre for Edinburgh's dispossessed, has been named sole winner in the Scottish Civic Trust's My Place Awards - after being nominated by the Architectural Heritage Society of Scotland.
Designed by Gareth Hoskins Architects the scheme won over judges who were impressed by both the positive impact the work is having on the local community as well as the heritage and architectural benefits brought.
In their citation the judges dubbed the project: "a high class facility for its members and wider Edinburgh community", adding: "It is a people led project which radiates warmth, humanity and a sense of equality. It is innovative, full of natural light, and has been woven seamlessly into the fabric of the adjoining buildings, streetscape and Greyfriars Churchyard.
"Both designers and client deserve wide recognition for this jewel of a project which enhances and uplifts Edinburgh's Grassmarket. It is a worthy winner."
Grassmarket Community Project cost £1.4m to build and provides support to over 300 people from a range of different backgrounds.
Back to March 2014