RIAS/RIBA Award 2014 shortlist published
March 25 2014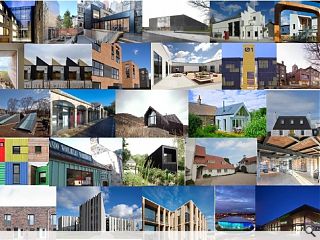 The Royal Incorporation of Architects in Scotland and the Royal Institute of British Architects have shortlisted 27 schemes to be considered for an award in their 2014 events programme, having whittled down a total of 83 entries for the annual competition.
Shortlisted work ranges from an unprepossessing £26k garden pavilion to a bombastic £125m arena, all of which will be visited by the judging panel ahead of an announcement of the winners on 18 June.
RIAS president Iain Connelly said: "While the judges are considering an extraordinary range of projects of different scale and type, from a modest house extension to multi-million pound public buildings, they will be rewarding those projects which they feel best address the key role of architecture: to improve people's lives."
This year's judging panel includes Douglas Read PPRIAS, Marjorie Appleton FRIAS, Liz Davidson Hon FRIAS, Craig White RIBA and George Oldham RIBA RIAS.
Last year
25 schemes were shortlisted from a total of 75 entries
.
Shortlisted schemes:
26-31 Charlotte Square
, Edinburgh (£12m)
Morgan McDonnell Architecture Ltd
"This prestigious development deftly connects a row of restored townhouses with new-build. The covered, linking, courtyard is an appropriate transition between the restored townhouses and the contemporary block behind."
261 West Princes Street
, Glasgow
Elder & Cannon Architects
"Two new-build blocks are set in a relationship to the existing tenements which generates a new internal pattern of landscaped courtyards. The materials forming the new elevations are intentionally bright and reflective."
Advocate's Close
, Edinburgh (£30m)
Morgan McDonnell Architecture Ltd
"Urban weaving at its most complex, connected into the existing patterns of Edinburgh's upper Old Town, the project connects refurbished historic properties with new-build. A substantial mixed development, full of interest."
The Battle of Bannockburn Visitors Centre
, Stirling
Reiach & Hall Architects
"In the year which marks the 700th anniversary of one of Scotland's most famous battles, this building provides engaging interpretation. The, almost literal, "black box", encloses a bright and welcoming interior."
The Birks Cinema
, Aberfeldy (£1.23m)
Robin Baker Architects
"This substantial Art Deco historic cinema, long derelict, provides a new 100-seater auditorium and a café/bar generating life, engagement and a cultural focus within a property which has been thoroughly reinvigorated."
Buchanan Gardens
, Glasgow
BDP
"The frontage on Glasgow's premier shopping street is a series of attractive blocks with different treatments. The rooftop residencies open onto a garden, generating a new community in the heart of the city."
Cliff House
, Isle of Skye (£245,000)
Dualchas Architects
"Simple geometries and timber cladding connect this new home to its beautiful elevated site. Highly insulted, the house provides maximum protection from the extremes of Skye's weather."
Clydebank East Workshops
, Clydebank £1.49m)
Elder & Cannon Architects
"What might have been simple, utilitarian structures are transformed into a development which declares itself. A simple palette redefines conventional notions of workshops, setting a marker for future development."
Commonwealth Games Athletes' Village
, Glasgow (£150m)
RMJM Architecture Ltd
"The Games' new sports facilities and accommodation are an enduring asset. This development of attractive modern homes will welcome a new community to Dalmarnock and generate a sustainable future for the whole area."

Daliburgh Primary School
, Isle of South Uist (£9.10m)
3D Reid
"Set amid a low lying island landscape, the building's profile and materials sit gently within this natural context. The plan is simple, enclosing courtyards which provide shelter and light."
District 10
– Unit 0.1, Dundee (£1.26m)
AIM
"Recycled shipping containers in zany configurations adorn urban settings across Europe. This development, one of the first in Scotland, boldly incorporates IT motifs to welcome start-up businesses to a revitalised Dundee."
Edinburgh Centre for Carbon Innovation
, Edinburgh (£6.10m)
Malcolm Fraser Architects
"Appropriately for a building focussed on sustainability, this facility utilises two historic buildings, connected and given cohesion by a new circulation block. The development draws on the past to enhance the future."

Grassmarket Community Project
, Edinburgh (£1.54m)
Gareth Hoskins Architects
"Transforming an awkward gap site into the entrance to enhanced facilities provides a new social enterprise amenity in the heart of Edinburgh. The new building occupies its site with ingenuity and charm."
The Haining
, Selkirk (£750,000)
Lee Boyd Ltd
"Finding appropriate and sustainable new uses for historic buildings is always a challenge. Within these archways, new studio workshops optimise the use of the existing spaces with minimal disruption to their historic character"
House at Camusdarach Sands
, Glenancross, Morar
Raw Architecture Workshop
"The new building, like its setting, appears angular and elemental. The simplicity of the external forms and materials manage to both signal the new building yet appear robustly contextual and appropriate."

House by the Woods
, St Andrews
Fife Architects
"The form of both the rear extension and the porch deliberately contrasts with the warm stone and pantiles of the original. The aesthetic elegantly combines the traditional with the overtly modern."
House No. 7
, Isle of Tiree
Denizen Works
"This tight development utilises both the traditional black house form and more agriculturally derived structures to create main and guest houses within its enclosed setting, all elegantly drawn into a unified internal composition."

The Inn at John O'Groats
, Caithness (£2.50m)
GLM
"This symbolic, much visited, location was, for too long, down at heel. Brightly coloured pavilions extend the restored Victorian hotel to create a whole new attraction and a highly visible landmark."
Knockando Woolmill
, Aberlour (£2.02m)
LDN Architects
"The mill and its adjoining buildings, previously very much at risk, have been given new life. Visitor facilities and accommodation are subtle and understated, preserving and reinterpreting important elements from Scotland's past."
Mackenzie Place
, Edinburgh (£50,000)
Sutherland Hussey Architects
"This simple pavilion in the park signals the well-established allotments for which it provides an important and overdue amenity. Spare and restrained, it is an elegant and attractive intervention."
Muirfield Gate
, Gullane
Lindsay Buchan Architects
"This important house has been adapted and extended in an appropriate and respectful manner. The new additions are carefully blended with the original to enhance this Arts and Crafts masterpiece."
National Mining Museum Scotland
, Newtongrange
Purcell
"Running up through three floors, this memorial wall, featuring new photographic and object displays, is an elegant and powerful addition to the already extensive interpretation and restored workings of the existing museum."
Redevelopment of St Martin's Church
, Edinburgh
Ian Springford Architects
"The site of the former church has enabled the building of a more modest and adaptable worship space alongside new residential development. Materials are simple and elegant and the whole development appropriately restrained."
Scottish Crime Campus
, Gartcosh (£49.02m)
Ryder Architecture with bmj architects (joint venture)
"This large development brings together extensive state-of-the-art laboratories and support facilities. Crime scene investigation science is used as a theme in both surface treatments and plan."
Scottish Water
- The Bridge, Stepps
Reiach & Hall Architects
"A new Scottish classicism delineates this elegant office development at the edge of a business park. The restraint of the external forms and materials is continued within the dramatic central atrium."
The SSE
Hydro, Glasgow (£125m)
Foster + Partners
"By raising the circular auditorium at an angle, a simple servicing and access diagram is created below the "flying saucer" form of this new landmark. Superbly lit it becomes a night-time beacon"
Waitrose
, Helensburgh (£4.20m)
Cooper Cromar
"The giant over-sailing roof declares a building which is far from the familiar image of the edge of town supermarket. This is an elegant and welcoming new approach to retailing."
Back to March 2014