RAW showcase Highland hideaway
March 17 2014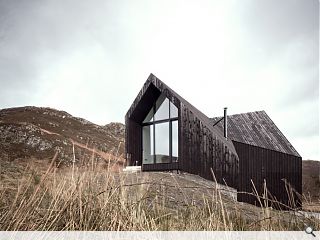 Raw Architecture Workshop have unveiled a bespoke Highland home that has been designed to work with the surrounding landscape whilst offering its occupants a direct line of sight to both the sunset behind mountains to the east and sunrise over islands to the west from twin glazed gables.
Partially buried into its sloping site the house benefits from soil insulation as well as a reduced exposure to the West coast climate, further aided by a dink in the building's roofline to maintain as low a profile as possible.
Wild grasses will blend the home into its setting whilst black stained timber was deliberately was deliberately specified to reflect the peat, gorse and leaden skies which define the region.
In a statement RAW said: "Construction is low tech consisting of an exposed concrete base sitting beneath a more expressive timber frame superstructure. There is a clear distinction in internal arrangement of space and function across 3 levels denoted by changes in light levels, scale of spaces, floor to ceiling heights and materials.
"Entrance is at the lower level into a darker, utilitarian concrete bunker. As you progress up through the building, via the birch ply staircase, spaces enlarge, daylight levels and ceiling heights soar, and materials are characterised by a lighter finish. "
Photography by David Barbour.
Back to March 2014