1.8% jump in construction output fuels industry optimism
March 14 2014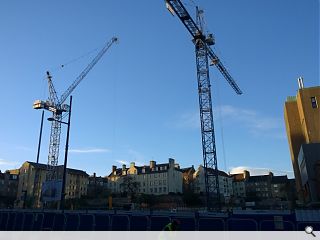 The latest batch of construction figures published by the ONS paint a picture of an industry in rude health with a rise of 1.8 per cent in January versus the month prior and coincides with a 1.5 per cent uptick in new orders for the final quarter of 2013 from the third.
Underscoring optimism in the sector the numbers have been welcomed by commentators, with Dr Noble Francis, economics director at the Construction Products Association saying: "New orders are an early indicator of future output, so the 1.5% rise during the final quarter of 2013 suggests that the growth in activity is also likely to continue over the next 12-18 months.
"Private housing was the key driver of construction growth in January with sector output 23.3% higher than a year earlier. New orders for private housing in Q4 rose 7.2% compared with Q3 and indicate growth for the sector in 2014 and 2015. The Association forecasts that private housing starts will rise 16% this year and a further 10% in 2015.
"Output in public non-housing, which primarily covers schools and hospitals work, has suffered greatly in recent years but looks set for a recovery. Output in the sector fell 34% between 2010 and 2013. In January, however, output was 2.2% higher than a year earlier and new orders in Q4 were 16.8% higher than in Q3, pointing towards sector growth this year."
The run of good news was offset somewhat however by a 22.2 per cent quarter on quarter slump in new infrastructure orders during the last three months of 2013.
Back to March 2014