Tollcross care home officially unveiled
March 14 2014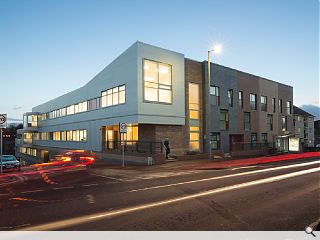 Collective Architecture have unveiled a £4.2m specialist care home on Tollcross Road, Glasgow, offering support to people recovering from alcohol related brain damage (ARBD) alongside family housing for social rent.
ARBD sufferers display dementia-like symptoms though are typically younger and more physically able, prompting Collective to seek design input from the Dementia Services Development Centre at the University of Stirling.
This collaboration informed a non-institutional approach by avoiding the windowless corridors and dead-ends.
Built for Loretto Housing Association the scheme provides rehabilitation for people discharged from hospital, as a stepping stone toward supported accommodation. This takes the form of 22 single person studio flats, accessible via individual front doors from a communal courtyard.
Scottish minister for public health Michael Matheson said: "I am extremely impressed with this excellent purpose-built facility, which will offer a high standard of care for people with enduring mental health problems and alcohol-related brain damage, helping them with their very specific needs so they have more confidence and improved self-worth as well as feeling less alone and isolated."
Photography by
Tom Manley
.
Back to March 2014