Council commits to Edinburgh Carlisle rail link
February 26 2014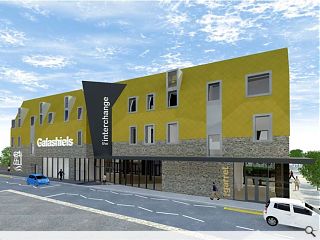 Scottish Borders Council have reiterated their long-term commitment to re-establishing a rail link between the region and Carlisle for the first time since the line was severed in 1969.
Work is currently underway on a stretch of line from Edinburgh to Tweedbank; including a new Galashiels interchange building designed by D5 Architects and Buro Happold, but the route will be a dead end for the foreseeable future.
Campaigners are warning that significant work is needed to secure the route, which has numerous proposed development sites along its length.
Simon Walton of Campaign for Borders Rail commented: "The Council's high-level support for protecting a railway line-of-route south from Tweedbank is very welcome, but we were very surprised to find that the proposed extension of the railway towards Hawick and Carlisle is not shown on any of the Settlement Proposals maps in the Development Plan.
"There is nothing on any of these maps to indicate that the route is safeguarded, and many of the Settlement Profiles for towns and villages which will be affected by a railway extension make no mention of it. This is a major error which must be corrected before the Development Plan is finalised."
The first phase of the Borders rail link will open to passengers next year.
Back to February 2014